I've been monumentally busy as of late, as my messier-than-usual desk can attest, so I'm a bit behind on my posting here. Apologies all around if you've been checking on a particular contest and patiently awaiting results.
We'll get to that momentarily, I promise!
Before The Weaver, as some of you have already seen, dropped this past week. (Hence some of my busyness.)
As I make mention in its Preface, I put it out as an impromptu Thank You to everyone who so ardently (and quickly!) supported Waking The Weaver. Some of you may have done so out of familial obligation, but a lot of you didn't. So I put together another book for you out of my feels about it. 🙂
This turn of events has also spawned a Weaver-centered trilogy, so you'll likely have Forging The Weaver available around this time next year.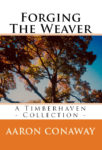 (If I don't bring you Monsters In the Park first, though, my wife, an incredibly enthusiastic fan of Juniper Soot, is going to have some words for me, so that will be the next Timberhaven novel to see print!)
Now, on to what you probably came here for, the results of my Write a Review, Name a Character Contest.
All of you, I must say, wrote incredibly kind things – they still make me smile in thinking about them – about Timberhaven, and I much appreciate you taking the time.
Unfortunately, a couple of you wrote these amazing things but then either didn't leave your name, didn't subscribe to this website (so I could contact you when and if you won), or didn't do either one! So, sadly, I couldn't include you in the drawing.
Before I draw the name (we're doing this play-by-play, which, yes, I know, would've worked better on video but I'm not set up for that yet. Yet.) I'd like to personally thank Ashley, Joy, Dusty, Sherry, Someone (only you know who you are), Wes, and Matt for the kind reviews.
Okay, here we go.
The winner is . . .
Joy!
Congrats on winning. I'll be reaching out later today to see if you've got your character name picked out.
Thanks to everyone who played along!
Now, before I leave you, a couple of last little reminders: I'll be at the Half Price Books in Independence, MO on October 13th and the Half Price Books in KCMO on October 20th where I will have copies of Waking The Weaver and Before The Weaver available. I'll also have limited copies of the first book in The Michael Gideon Collection, Tales For Halloween, on hand, but it's first come, first served, unfortunately. (It'll still be available on Amazon, though, hopefully by the first of October!)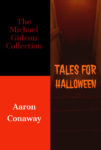 That's it for me, all.
Gonna get back to the writing.
A.C.